Social media offers marketing teams access to a wealth of information, empowering them to hone their marketing strategies. Sentiment analysis executed via advanced sentiment analysis tools is one of the main venues for leveraging social media data.
Let's explore sentiment analysis, look at its best tools, find out how to choose the right tool for your business, and maximise the insights obtained.
What Is Sentiment Analysis?
Sentiment analysis, also called opinion mining, is the art of figuring out the human emotions and opinions behind a written text. It's a precious method to understand your audience better and improve your offering.
It incorporates advanced technologies like natural language processing (NPL) and machine learning to depict if the sentiment of a text is positive, neutral or negative.
How does sentiment analysis work?
Sentiment analysis incorporates several phases:
Data collection – data is collected from all sources available, social media posts, review sites, customer reviews, surveys, customer support, and other media.
Data cleaning – before analysis, the text data must be filtered, duplicates removed, and irrelevant information excluded. Next, the text is tokenised (splitting text into words and small propositions) and stemmed (using the root of the words).
Sentiment classification – sentiment analysis algorithms evaluate the texts and group them into positive, neutral and negative categories.
Contextual analysis – human language has nuances and may have particular meanings based on context. To improve accuracy, advanced sentiment tools like Symanto take into consideration the context.
Data aggregation and visualisation – the analysed data is aggregated and usually presented as graphs and charts to facilitate insights extraction.
What Are Sentiment Analysis Tools?
Sentiment analysis tools are software applications that use modern technologies to process large amounts of data, analyse them and decipher the emotion, tone, and intent behind texts.
Why use sentiment analysis tools?
Using AI tools for sentiment analysis brings an array of advantages:
Data-backed marketing and business decisions – having at their disposal insights based on data, brands can improve their decisions and reduce guesswork.
Gain a competitive edge – knowing in real-time how your audience feels about your brand and products is an advantage as it enables quick reactions.
Real-time monitoring – allows businesses to profit rapidly from opportunities that appear on the market and address challenges as they arise.
Reduce costs – text sentiment analysis tools automate the process of analysing text data and grant a better resource allocation.
Enhance customer engagement – a better understanding of your audience sentiment leads to more personalised and targeted campaigns that, as a consequence, improve engagement.
Best Sentiment Analysis Tools
Businesses have a large variety of sentiment analysis tools to choose from, each with its own set of features.
Let's explore the most exciting options available today.
Symanto is at the forefront of NLP research, offering some of the most advanced and accurate text analysis technologies available. And combines cutting-edge technology with human expertise.
Our NLP can even recognise lousy grammar, misspellings, and slang language.
The models we use require little-to-no training and can connect instantly with 75+ review sites and social media channels, enabling you to get meaningful insights from thousands of data points within minutes.
Run like-for-like competitor analyses to see what customers say about your industry's other leading competitors.
Combine sentiment analysis with our psychographics to better understand your (and your competitors') customers.
We offer flexible solutions, combining multiple features from our suite of tools, bringing you a solution tailored to your business's specific needs.
How does Symanto sentiment analysis work?
It is AI-powered and involves two levels:
Text-level sentiment – takes into consideration the tonality of a text.
Topic-level sentiment – identifies particular attitudes towards a specific topic.

Such features empower you to get instantly superior insights to back with data on your business decisions.

Advantages of our sentiment analysis:
AI-powered. Considers the context of a text, not just the terms and language.
High level of accuracy. We employ models trained on billions of texts that are usually industry-specific. Then, we refine them with the help of industry experts in order to produce precise results.
Industry-specific models. Our analysis is based on pre-trained industry models to respond to niche-specific demands.
Topic-level sentiment analysis. Depict granular attitudes regarding specific topics.
Advantages

Disadvantages

Highly accurate insights

Slight learning curve

Personalised insights

For small businesses may be pricey

Psychographic insights

Industry specific

Multilanguage

AI-powered

Topic level analysis
Get more information on our sentiment analysis technology and find out how Symanto can help you obtain highly valuable insights for your brand. Book your free demonstration now, or try it for free.
As they clearly state, MonkeyLearn is a "no-code text analytics" tool looking to provide a simple way to clean, label and interpret feedback from consumers. It is a solution powered by AI. 
The main features offered are text classification and extraction with the help of machine learning. You gain the capacity to analyse text in a matter of seconds, but you have to build the text classifiers and train the model. 
Text classifiers are in charge of determining the sentiment, topic, urgency, intent, etc. Text extractors identify entities, keywords, and features to structure the data and automate processing. 
With MonkeyLearn, your business enjoys the following benefits:
Detailed insights and data visualisation capabilities

. Analyse your text quickly, get insights instantly, and visualise your data under the same dashboard.

Business templates to facilitate text analytics

. Use templates crafted for a variety of business scenarios and pre-made analysis models.

Ready-made machine learning models

. To help you build and train your own model without coding knowledge. 

Easy integration with a variety of platforms.
Advantages

Disadvantages

Detailed insights

Slight learning curve

Easy integration

You have to train the algorithm

Visualisation capabilities

Inflexible pricing model

Collection of templates

Difficulties to process large volumes of data

AI-powered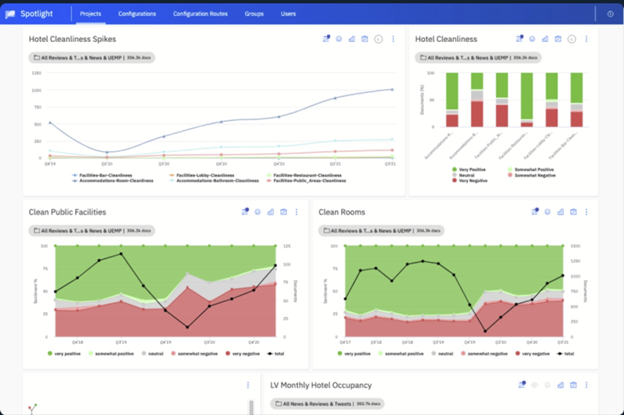 This business intelligence application aims to extract value from unstructured text data. It also reveals contextual patterns and valuable insights from surveys, customer reviews, customer feedback, social media comments, customer support documents, etc. 
In a word, Lexalytics is a social media sentiment analysis tool that reveals and explains how your audience speaks about you, what they say, why and how they feel.
 And employs natural language processing to analyse text, execute sentiment analysis and depict the "why" behind the consumers' messages.
Here's why this is a tool of choice for various professionals:
Surface critical insights

based on qualitative customer feedback analysis.

Enterprise-level text analysis

. Facilitates task assignation, related analysis grouping to identify trends, data sources comparison, etc. 

Multilingual proficiency

. The application is compatible with over 30 languages, making it ideal for multinational businesses.

45+ Industry-specific packs

. To improve sentiment accuracy, entity identification and topic detection based on industry, Lexalytics offers pre-built models for a variety of industries, from pharma and auto to banking and finance.
| Advantages | Disadvantages |
| --- | --- |
| Detailed insights | Reporting feature |
| Multilingual | Real-time processing may be slow |
| Industry-specific models | Performance with languages other than English needs to improve |
| AI-powered | Upfront data manipulation required |
Brandwatch is widely used for competitor analysis and brand monitoring across major social media channels. 
They have conceived an artificial intelligence-backed platform dedicated to analysing unstructured, fast-changing data to discover actionable insights. It has features like:
AI Analyst

– dedicated to automatically generating insights.

Image analysis

– identifies objects, logos, actions or scenes from a visual.

Auto segmentation

– segment and classify data with the help of machine learning.

AI-backed search

– find immediately pertinent data for a brand or a specific topic.

Robust analysis

– characterised by the flexibility to make combinations you need to surface insights, tens of customisable visualisations to analyse data and blending capabilities to identify sentiment, trends or topics. 

Multilingual support for sentiment analysis.

A customisable dashboard

makes viewing the information most relevant to your business quick and easy.
Even if this is the supplier of choice for 5,000 + large brands across the world, the main criticisms for Brandwatch sentiment analysis are lack of accuracy and difficulty in writing queries.
| Advantages | Disadvantages |
| --- | --- |
| Advanced insights | Learning curve for advanced features |
| Robust analysis | Insufficient training resources |
| Powerful visual analysis | Inflexible pricing model for small businesses |
| Multilingual | Inaccurate sentiment analysis |
| AI-powered | |
Instead of focusing on measuring customer sentiment, Critical Mention analyses context in news articles, industry magazines, TV, and on-air sources. Its video recognition technology works even on live broadcasts and stands out from others, offering the same feature.
Their platform uses sentiment analysis to comprehend the context of media mentions and keep a close eye on your brand's reputation. It is handy for crisis management and public relations.
Here is why businesses choose to use Critical Mention: 
Vast media coverage

. It helps brands comprehend how they are presented across all media, TV, radio, online venues, and social media.

Sentiment analysis and reporting

. Enables businesses to gauge public perception of their brand and products across all media verticals and detailed reports to improve decision-making.

Competitor benchmarking

. Understanding how competition is covered in media helps businesses sharpen their strategies.
| Advantages | Disadvantages |
| --- | --- |
| Extensive media coverage | Learning curve for features |
| Robust sentiment analysis | Insufficient integration options |
| Customisable reports | Not very friendly interface |
| Daily and immediate alerts | No free trial |
A sentiment analysis tool with a free version that offers real-time sentiment monitoring. It's a reliable alternative for small businesses with limited budgets that what to know their audience's sentiments and the developing trends.
Since customers prefer social media to share their negative experiences, companies need to know about them and be able to react and take measures before the situation expands. 
Social Searcher provides:
Multi-platform coverage

. It monitors all relevant social media networks and the web to present you with a complete overview of your online presence.

Real-time monitoring

. Keeps you in the loop with the trending topics of online conversations and public opinion. 

Analyse social mentions

, sort them, filter the results, search in mentions history, and modify sentiment metrics to get the desired results.

Historical data

, to have a broader perspective on sentiment evolution in time, check what happened in history.
| Advantages | Disadvantages |
| --- | --- |
| Ample media coverage | Basic sentiment analysis |
| Access to historical data | No advanced insights |
| Free option | |
| Real-time monitoring | |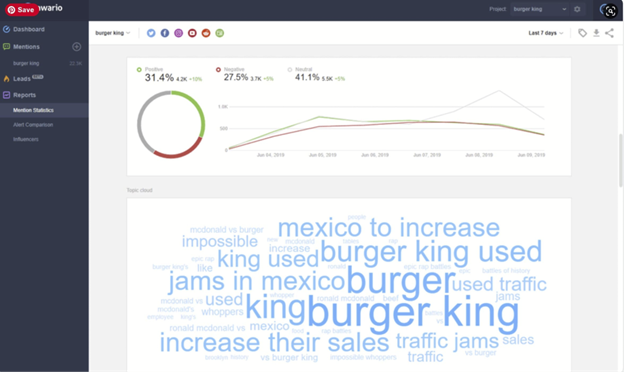 This is a sentiment analysis tool and real-time brand monitoring solution that proud itself on crawling more than 13 billion web pages on a daily basis. 
If you want to surpass your competitors and stay ahead of the curve, you may want to check the following features of Awario:
Sentiment analysis

. Get detailed insights into the tone of conversations held online around your brand or products and have a realistic overview of how your business is perceived. 

Real-time alerts

. Receive instant notifications when something relevant for or about your brand happens online. Respond to feedback, critique or identify emerging opportunities.

Competitive analysis

. Keep an eye on your competitors and fine-tune your strategies accordingly.
| Advantages | Disadvantages |
| --- | --- |
| Comprehensive media coverage | Learning curve |
| Free trial | At times features don't deliver at the expected level |
| Real-time monitoring | |
| Detailed sentiment analysis | |
Repustate is a sentiment analysis application that wants to be simple to use and effortless to understand. And aims to be 12X faster than competing solutions and to deliver results with 50% increased accuracy. 
Their declared mission is to provide customer sentiment analysis insights in any language, instantly and without coding. Obtain actionable, granular and accurate data. 
Reustate empowers businesses to quickly depict consumers' sentiments, obtain accurate insights to streamline efficiency, and earn a competitive advantage. 
Check this sentiment analysis software (now part of Social Sprout) if you are interested in:
Fast, highly accurate insights

. Get granular, real-time insights from a variety of relevant channels.

Multilingual capabilities

. It proves proficiency in analysing texts in over 23 languages. And it is of interest, particularly for international or global companies with multicultural audiences.

AI-driven search

. The tool can understand semantics, slang, local dialects, and industry jargon and deliver the expected results.

Easy integration via API

.
| Advantages | Disadvantages |
| --- | --- |
| Comprehensive media coverage | Learning curve |
| Multilingual capabilities | No trial |
| Real-time monitoring | |
| Advanced and accurate sentiment analysis | |
| AI semantic search | |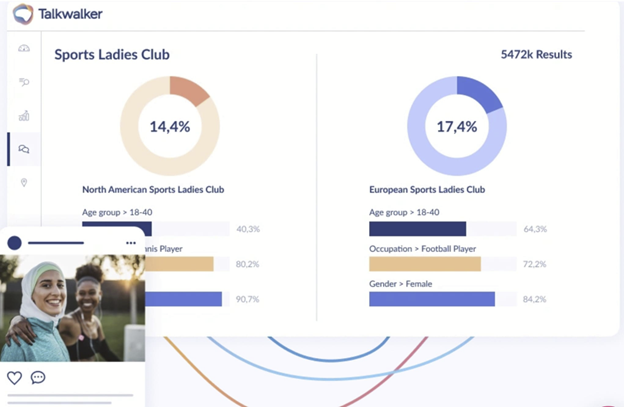 Currently used by more than 2,500 brands, Talkwalker is a customer intelligence solution looking to deliver insights quickly, be user-friendly, and democratise data. 
It empowers businesses with robust sentiment analysis and audience analytics capabilities to enhance brand health. 
Here's what makes Talkwalker noteworthy:
Interest analysis

. Align your marketing strategies with your audience's preferences, needs and passions.

Sentiment analysis

. Gauge your target customers' sentiment toward your brand, products, and competitors to maximise your campaigns' impact. 

Audience comparisons

. Compare segments to spot similarities and differences and craft targeted offerings and campaigns. 

Audience libraries

. Improve customer segmentation with pre-built audience libraries and discover new target segments for your business.

Audience clustering via AI

. Profit on AI to determine similar audience segments and identify patterns and hidden insights.
| Advantages | Disadvantages |
| --- | --- |
| Comprehensive media coverage | Slight learning curve |
| Multilingual capabilities | At times, the quality of results is below expectations |
| Real-time monitoring | Limitation to certain features |
| Advanced and accurate sentiment analysis | May not be a fit for small businesses with limited budgets |
| AI audience clustering | |
What to Consider When Choosing a Sentiment Analysis Tool
Here is a list of essential features and capabilities for you to consider when choosing the tool that best fits your brand's needs. Identifying a tool that excels at all of them will be challenging, so it's up to you to decide which makes the most sense for your company.
Accurate text analysis technology
Given that most customer opinions are expressed through written text on social media (comments, reviews, etc.), one of the most important things to consider is that the tool uses advanced text analysis AI to accurately interpret written human language.
The keyword you're looking for here is "natural language processing" (NLP). Natural language processing is a subfield of AI and linguistics that deals with analysing large amounts of natural language data.
If the sentiment analysis tool you choose uses outdated or primitive NLP technology, it won't be accurate enough to deliver meaningful insights. And if it can't do that, it's probably a wasted investment for your company.
Remember that your chosen tool shouldn't require excessive training to function correctly. 
Not all NLP tools are created equally. Some models require a period of manual training to accurately label language and detect industry-specific topics. 
Choose a sentiment analysis tool with a quick and easy setup process that uses state-of-the-art technology to minimise the amount of effort required on your side.
If you plan on analysing large datasets, make sure that the tool you choose can handle it to avoid lagging technology prone to crashing.
Multiple sources for data collection
You ideally want a sentiment analysis capable of processing data across numerous sources. Avoid information silos by opting for a sentiment analysis tool that can consolidate data from social media channels, news sources, surveys, CRM data and more.
The easier it is to garner actionable insights from your data, the more your teams will use the new tool. 
Unintuitive data visualisations and complex interfaces are not appealing to users, and you'll have difficulty convincing teams to use the tool to its fullest potential.
Is it essential for your business to be able to respond in real time? If so, some tools offer immediate notifications if, for example, there's a strong downward trend in sentiment.
This enables rapid-fire responses to help mitigate PR disasters right at the start.
Competitive analysis
Some tools are designed to analyse just one brand, while others can be used to compare performance with other prominent players in your industry. 
Competitive sentiment analysis is useful for benchmarking, finding your niche, and gaining valuable market insights.
Image and video recognition
With an increasing amount of photo and video content circulating on social media, it may make sense for your business to opt for a sentiment analysis tool with image and video recognition technology. 
Some tools can identify brand images, such as logos and other brand artwork.
Fashion brands may find it helpful to use video recognition AI to identify videos featuring TikTok influencers wearing their branded clothing.
Industry specialisation and customisation
Some tools cater to specific industries, proposing personalised solutions. If your niche is characterised by certain specificities, having a specialised sentiment analysis solution that answers your needs may provide you with a competitive advantage. 
Multiple language capabilities
If you have a business with international operations or you have a multilingual audience, you may need a tool that can execute sentiment analysis in more languages. 
Price 
Obviously, you need a tool that fits your budget and provides the required features and benefits. Check multiple tools and carefully determine what value they offer for the requested price. 
Take Away
You have listed above a few examples of reliable sentiment analysis tools. It's up to you to decide what is the best tool for your business, considering your goals and requirements. The main challenge is to learn how to use sentiment analysis to extract valuable insights that drive your business further.