After two long years of pandemic uncertainty, travel restrictions and strict COVID-19 measures, the summer of 2022 was expected to be a final release for travellers and separated families across the globe. But what was meant to be a happy time for many turned into airport chaos, with long delays, cancelled flights, and lost luggage.
The air travel industry was badly hit by the pandemic, with a 73% decrease in passenger traffic from 2019 to 2020. This led to mass layoffs and furloughs across the industry. So the obvious conclusion many came to was that this is what led to the airport chaos this year.
But is this an accurate account of what happened? We ran a situation analysis report using Symanto technology on employee reviews pre, mid and post-pandemic to get deeper insights and discover what factors were at play.
We ran an analysis of 3851 reviews from employee review site Glassdoor. The reviews covered the European Market and were written in English. They spanned 1st May 2019 to 9th September 2022 and were analysed under three categories:
Pre-pandemic 1st May 2019 – 22nd March 2020
Before COVID19 measures / air traffic restrictions / travel restrictions.
Mid-pandemic 22nd March 2020 – 22nd December 2021
During COVID19 measures / air traffic restrictions / travel restrictions.
Post-pandemic 22nd December 2021 – 09th September 2022
After or with minor COVID19 measures / air traffic restrictions / travel restrictions.
The report provides a thorough analysis of topics mainly discussed by employees, and more. Below, we've broken down what was analysed with a brief explanation of each factor and a description of the results.
Net sentiment overview gives the percentage of positive, negative and neutral reviews for each time period. A higher net sentiment score (closer to +100%) indicates a generally positive feeling while a lower score (closer to -100%) indicates a generally negative feeling.
Pre-pandemic: -23%
Mid-pandemic: -23%
Post-pandemic: -22%
All three net sentiment scores are very similar. This is our first indication that the pandemic was not the only factor at play in the airport chaos of 2022. There were already some underlying issues before COVID hit.
Net Sentiment & Post Volume Over Time
Net sentiment and post volume over time helps us pinpoint key moments within the time period studied and whether sentiment radically shifted at any point. The graph below plots net sentiment against post volume across the entire time period studied.
As you can see, post volume increased a few months into the pandemic, with conversation peaking during the Christmas period in 2020. However, net sentiment remains largely stable throughout. This further suggests that the pandemic was not an out-and-out trigger for employee dissatisfaction.
A term cloud helps us understand which topics are being talked about the most. The larger the word, the more frequently it was mentioned. We can also dig deeper and read individual comments to understand the context in which these terms are being used.
Long hours were the biggest criticism of workers in the airline industry. The main reasons cited were mismanagement and poor organisation.
The criticism shifted away from working conditions toward general well-being. The reasons stay the same, citing mismanagement and slow processes.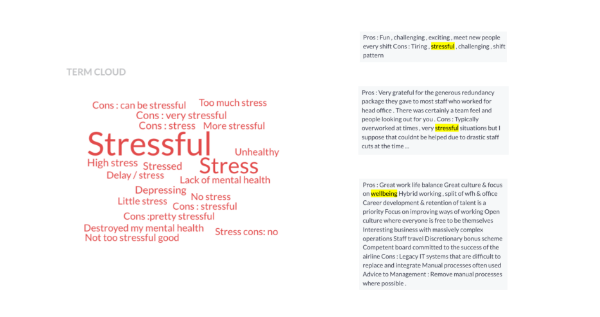 The permanent overload culminates in a strong dissatisfaction with the role of an employee in the airline industry.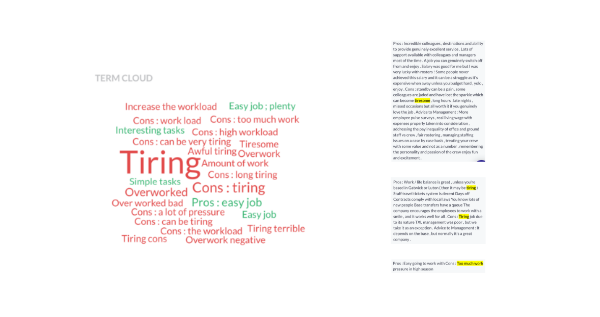 A sentiment heatmap is a visual representation of the sentiment distribution by topic. The darker the red, the more negative the sentiment; the darker the green, the more positive the sentiment. Sentiment is also divided by star rating.
As you can see from the heatmap, pre-pandemic most of the criticism was directed towards pay and benefits and leadership and planning.
Mid-pandemic, leadership and planning and communication become the key topics of criticism amongst employers. Here we also see that employees across the board are reporting negative sentiment about their role, including among employees who left a 5-star rating and are happy overall in their employment.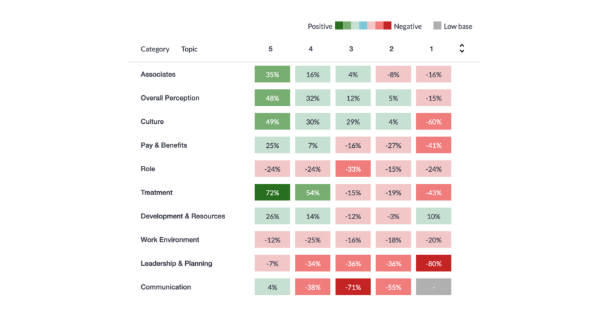 Post-pandemic leadership and planning remain negative, but "role" (fomented mid-pandemic) is now generating the strongest negative sentiment as employees feel increasingly drained by the demands of their positions.
If we look at the main points of criticism across the different time periods, we can see that they are always the same: Long working hours, high workload and poor organisation. The difference lies in the intensity of the stress, which is not decreasing but increasing.
Is the pandemic to blame for the airport chaos of 2022?
The results of this situation analysis allow for the interpretation that the problem did not arise because of the pandemic, but was rather exacerbated by it. An existing heavy burden on flight personnel was further compounded mid-pandemic, which led to an untenable working situation for employees in the airline industry.
This is an important distinction to make as it shows us that there are some fundamental underlying problems with the way airline businesses lead and manage their staff. Had employers addressed the pre-existing issues, they may have been able to mitigate the effects of the pandemic on their employees and avoid the airport chaos of 2022.
This situation analysis is just one example of how Symanto can be used to understand complex issues in your business. We offer a variety of tools and reports, supporting a wide range of industries and use cases.
Use employee and customer feedback to pinpoint the strengths and weaknesses of your business and use these insights to mitigate any existing problems before they cause more serious damage to your organisation and your reputation.
Find out how we can help you. Get in touch today.