Artificial Intelligence (AI) is now part of our daily lives, one way or another. Social media is a domain where AI found a quick adoption and AI social media tools became the norm.
Let's see how AI impacts the management of social media and how it helps improve efficiency and enhance engagement.
First things first.
What Is an AI Tool for Social Media?

AI social media tools are programs or applications that make use of the capabilities of artificial intelligence (AI) to manage social media accounts, analyse data and ultimately maximise reach and profitability.
In simple terms, social media AI tools leverage data analysis and algorithms to automate and enhance social media duties like content creation, post scheduling, sentiment analysis and tracking, audience analysis, campaign analysis, etc.
And empower marketers with recommendations and insights to help them reach their audience, engage them and measure the impact of their social media campaigns.
The impact of AI in social media management
It's incontestable that AI has a transformative effect on social media.
Some directions where AI impact is considerable:
Data-backed decisions. AI tools are capable of processing large amounts of data supplied by social media platforms. And analysing trends, engagement, user behaviours and other relevant data to improve decisions.
Automate scheduling and posting. AI algorithms determine the best times to post in order to reach the largest audience. And automate the scheduling process, saving time and ensuring consistency.
Content creation. AI tools can offer support in creating relevant content for your target audience. Adapt the message toward personal preferences, thus enhancing personalisation and driving engagement.
Sentiment analysis. AI brought sentiment analysis tools to a new level, as they are capable of processing huge amounts of data and quickly depicting the public sentiment toward a product, brand or subject. As such, they allow quick opportunity or emergency situation identification.
Audience insights. AI social media tools provide advanced insights related to the target audience's demographics, psychographics and behaviours. Helping businesses respond better to their customers' expectations.
Moreover, AI plays a significant role in driving engagement and improving efficiency. As it helps:
Better optimise the content produced.
Improve response times.
Streamline workflows
Predict user behaviour and identity trends.
Best AI Social Media Tools
Let's explore an AI social media tools list that includes the most prominent tools currently making waves in this industry.
While engagement, reach and follower growth are all interesting metrics, they are somewhat shallow when it comes to revealing the impact of your marketing campaigns.
These so-called "vanity metrics" don't tell you whether you're attracting prospective buyers, or how the audience feels about your post. That's where Symanto comes in.
Symanto technology's superpower is its ground-breaking natural language processing AI.
Unlike other sentiment analysis technology, Symanto can understand complex sentences and contextualise words and phrases to understand meaning with greater accuracy.
Symanto's psychographics feature also tells you what kind of customers are engaging with your post. Are they loyal customers with an existing emotional connection to your brand? Are they promoting your brand? Or are they detractors, or at risk-customers who are detached from your brand?
As our recent breakdown of the BMW Super Bowl ad demonstrated, engagement is just part of the story. Your marketing campaign can reach many wrong types of people but completely miss the mark with prospective or loyal customers.
Symanto also makes it easy to compare your performance with your competitors to benchmark your brand against similar companies in your industry.
Top Features
Natural Language Processing (NLP). Symanto's technology is built on advanced AI algorithms that gather and process social media data points to deliver valuable hidden insights. It is capable of interpreting users' emotions, sentiments and context significance.
Competitive intelligence. Our AI solution overviews your competitive landscape, checks your competitors' social media presence and activities and delivers valuable insights for your social media strategies.
Trend detection and analysis. In the social media realm keeping up with trends and hot topics is vital. Symanto's analysis capabilities support your business in staying relevant by spotting emerging trends and meaningful conversations.
Audience segmentation. One of Symanto's outstanding features is audience segmentation. It goes beyond demographics, it deeps into psychographics and reveals the audience's preferences, interests and values.
Customised reports. Symanto's platform delivers insights in a visual and easy-to-understand format, facilitating data-based decision-making.
Timeline. Assess sentiment and customer engagement evolution in time.

Real-life applications
Some of the most common use cases are:
Product development and optimisation.
Improved social media strategy.
Crisis management.
Brand health.
Competitive benchmarking.
Get Started With Symanto
Find out more about how to leverage Symanto technologies for your social media marketing strategies. Contact us or book your free personalised demonstration today.
Pros and Cons
| | |
| --- | --- |
| Advantages | Disadvantages |
| Advanced valuable insights | Learning curve |
| Real-time data and insights delivery | Cost |
| Competitive analysis | Data overload |
| Brand health | |
| Audience segmentation | |


Flick: Empower Your Social Media Marketing
Flick is a social media marketing platform that incorporates AI features and is used by over 100,000 brands worldwide. It promises to help marketers, business owners and social media specialists with their post creation, scheduling, analytics and hashtags.
Their aim is to support your business in keeping social media tasks organised and consistent and to improve your business's productivity.
Flick has built its platform with a special focus on customer experience and results.
The most relevant features are:
AI Social Assistant (Beta). Your trusted helper to write social content faster, to repurpose content and to brainstorm new ideas.
Hashtag Tools. Conceived for Instagram, to improve reach and performance. Includes features like hashtag search, hashtag collections and hashtag tracking.
Post Scheduler. Plan, create and publish content on your social media accounts flawlessly with a friendly and reliable scheduler. It is available for the following platforms Meta, Instagram, LinkedIn and TikTok.
Analytics and Reporting. Get a clear idea of what is working for you on social media and make informed decisions backed by data.


Real-life applications
Instagram hashtags search and track.
Instagram analytics and feed planner.
Posts scheduling on major social channels.
Content creation powered by AI.


Pros and Cons
| | |
| --- | --- |
| Advantages | Disadvantages |
| User-friendly interface | AI functionality has bugs at times and takes longer to deliver its output |
| AI social assistant | Particularly helpful for Instagram, but not the same for other channels |
| Post scheduler | |
| Free trial | |
| Low-cost | |
| Help and support content | |


Audiense: Audience Insights Redefined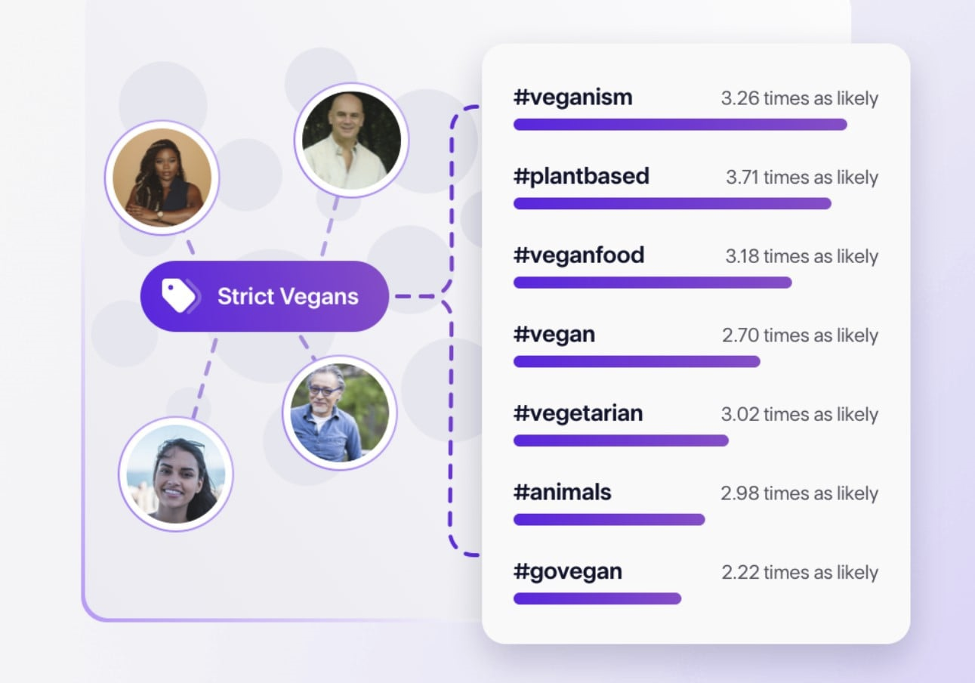 Audiense conceived a selection of digital consumer intelligence apps that aim to allow access to audience insights at scale.
And leverage social media to support with data and insights the marketing strategies and the associated audience tactics. Their platform provides social data in a particular manner that creates a solid data-backed foundation for audience research.
Audience is the partner of choice for more than 2,000 brands among which Apple, Ogilvy, TikTok, Deloitte, PepsiCo, Warner, OMD, etc.
To extend their data sources, they bought a bunch of other applications like Soprism, Affinio and Tweetbinder.
Audiense range of products include:
Social intelligence. Identify social consumer segments based on their behaviour and affinities. Combining them with analytics and social listening you can have a better picture of who your target audience is.
Digital intelligence (Meta). Count on the most reliable online audience insights source to determine the target groups that are important for your business. Get detailed insights into your audience's activities and interactions.
Demand intelligence. It leverages country-level data and various data points to depict your audience's demand and interest for brands.
A robust Twitter analytics tool that tracks daily thousands of hashtags.


Real-life applications
Social audience insights.
Engage micro influencers.
Audience segmentation.
Craft customer-centric strategies.


Pros and Cons
| | |
| --- | --- |
| Advantages | Disadvantages |
| Audience advanced insights and research | Can be pricey – it's an enterprise solution |
| Depth of data | Learning curve |
| Twitter analytics and research | Customer support may sometimes not be at expected standards |
| Free trial | |


HelloWoofy: AI-Powered Social Media Management
HelloWoofy is a social media marketing platform backed by AI that helps small and medium businesses create, curate and autocomplete blogs and posts for social media in no time.
It integrates with the major social media channels from Facebook and Instagram to Pinterest and LinkedIn. And is able to identify videos and images related to the topics you are interested in, recommend hashtags and emojis and generate text for your posts.
HelloWoofy's main features are:
Post creation tools. Take advantage of Generative AI to create blogs and social media posts. Speed up your work with AI-driven autocomplete features, emojis, hashtags and image recommendations.
Schedule content tool. Schedule content for all your social media channels within a few clicks.
Smart tools to write newsletters and blogs. AI-powered time-saving tools that generate text, autocomplete and pull quotes to help fasten the content creation process.
Management and organisation tools. Organise your content library into categories, create campaigns by auto-pulling text from these categories, use different calendars for different social accounts, etc.
Translation capabilities in multiple languages.


Real-life applications
Create a large variety of social media posts, blogs and newsletters.
Schedule social media posts in advance on multiple channels.
Select images from an extensive royalty-free image library.
AI auto suggestions for captions.


Pros and Cons
| | |
| --- | --- |
| Advantages | Disadvantages |
| Speed up social media post creation | At times part of the functionalities won't work as expected, (e.g. AI text generation or blog publishing) |
| AI recommendations for hashtags, emojis, images and autocomplete text | Limited integrations |
| Schedule posts in advance on numerous channels | Customer support may sometimes not be at expected standards |
| Large library of content ideas and free images | No free trial |


Buffer: The Next Level of Social Media Management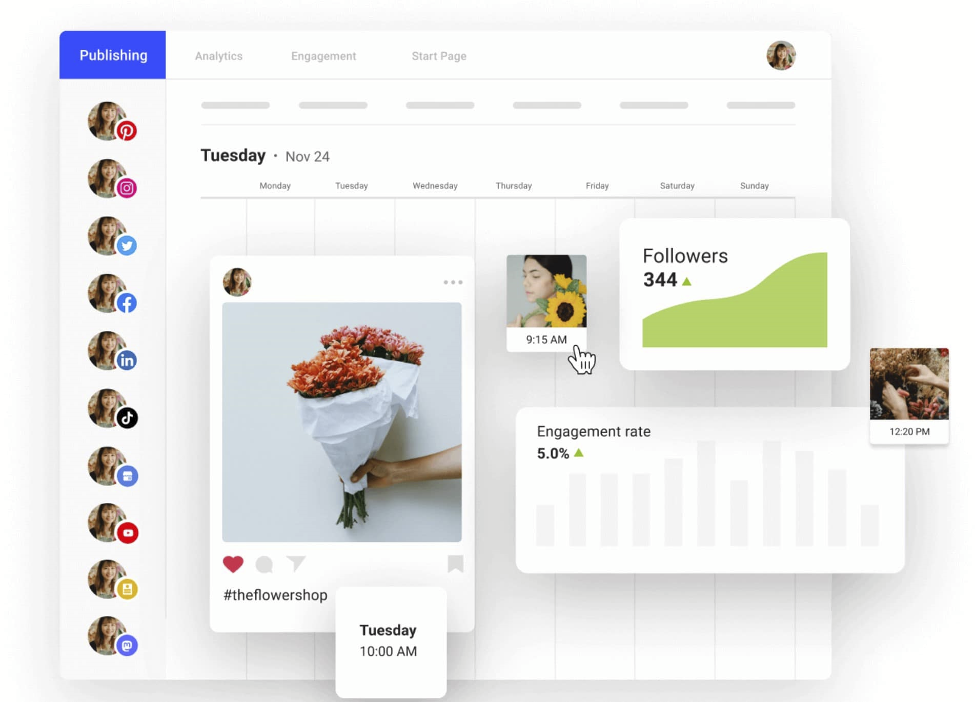 Having more than 140,000 users across the globe, Buffer is an important player in the social media management realm. And has been on a mission to help businesses grow organically since 2010.
They provide an interactive and robust platform that includes all the characteristics needed to run successful social media campaigns from one dashboard. All the posts are customised for each social channel with its specifications and hashtags.
Also, Buffer is a helpful tool for marketing teams that manage multiple client accounts, helping them to streamline social media operations and increase efficiency.
The main features of this AI social media tool are:
Strategize, plan and publish scroll-stopping content on all your channels in one place.
Analytics. Measure your social media performance and grow your reach, engagement and sales with powerful insights and recommendations. Based on account analytics, posts analytics and audience demographics.
Engagement. Keep an eye on conversations and interactions in real-time and convert casual browsers into fans.
Start Page. Create landing pages with ease and quicker than you imagine.
AI Assistant. A tool backed by AI to facilitate social post creation by generating ideas, repurposing existing posts, summarising blogs into social media posts and more.


Real-life applications
Share valuable content at the right time to get the attention of your target audience.
Engage your audience by using the correct hashtags.
Automate your social media content publishing.
Easily collaborate with your team.
Pros and Cons
| | |
| --- | --- |
| Advantages | Disadvantages |
| Scheduling posts in bulk, in advance and on multiple channels | Analytics feature not too advanced |
| Unites post creation, scheduling, publishing and analytics in one dashboard | Some users may find the interface, not that friendly |
| Cost effective | |
| Free plan | |
| High-level customer support | |
| Scalability capabilities | |
| Many integration options | |
Lately: Enhance Social Selling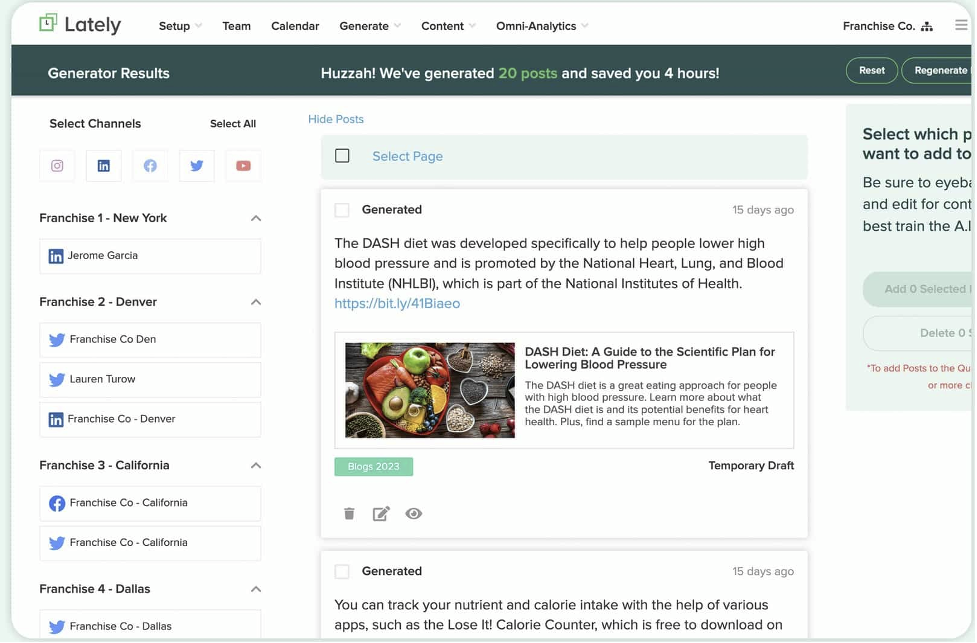 Lately is a generative AI social selling, social management and brand amplification platform. It is primarily an AI tool for social media posts, its purpose is to generate valuable content, written in your brand voice.
In a word, it takes your existing content and repurposes it into highly effective social media postings multiplying visibility and warm leads.
And takes the guess out of the troublesome question of what to post on your social media channels to get the attention of your audience.
As a full-service social media management solution it proposes scheduling, content creation, analytics, and syndication capacities. Plus, its AI capabilities are able to generate automatically numerous pre-tested social media posts.
Lately's main features are:
AI Content Writer. It creates a writing model based on past social posts and long-form content that you feed in Lately's AI Brain.
Social Analytics. Tools to measure the performance of your posts and continuously improve your AI writing model.
Social Selling. Involve your sales team in your social media activity by allowing them to publish pre-approved posts.
Social Media Marketing. Enhances preparation, planning and scheduling of your posts on all your social channels
Video Autogenerator. Generate social media posts from your video content automatically.


Real-life applications
Generate content considering the performance of your past posts.
Involve your sales team in social media tasks to boost sales.
Increase organic reach.
Efficientise social media messaging and its consistency.
Pros and Cons
| | |
| --- | --- |
| Advantages | Disadvantages |
| Fast social posts creation via AI | Some features have performance issues at times |
| Keep track of the quality of content you need to publish | No free trial |
| User-friendly interface | |
| AI writing model that suits your goals | |


Canva: Graphic Design Enhanced by AI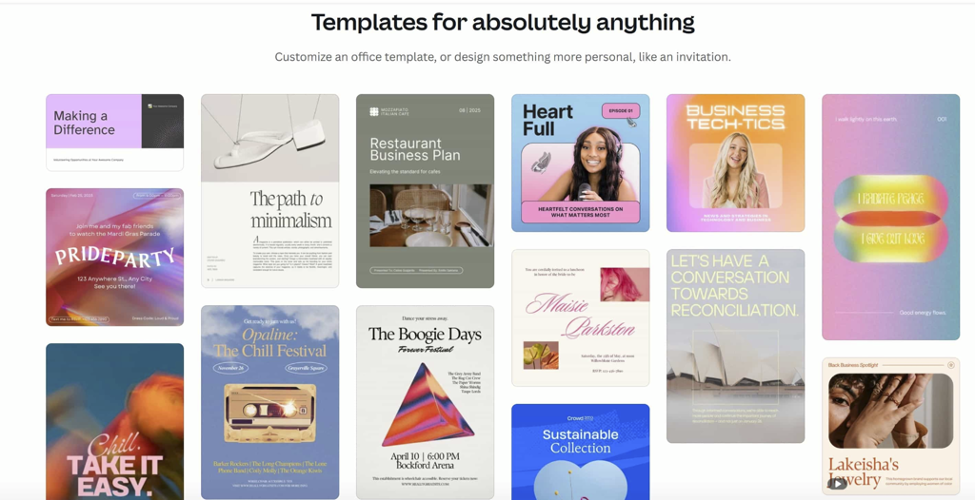 In the social media galaxy where visual appeal reigns supreme, creating high-calibre social media graphics is paramount.
Here is where Canva comes into play, as a robust AI-powered graphic design application. It is a strong tool for visual content creation adorned with AI capabilities to help conceive eye-catching social media graphics.
In a word, it is a social media design powerhouse aiming to simplify the graphic design process. Plus, it is accessible to all types of users from complete beginners to advanced designers.
Canva's outstanding features are:
Intuitive interface. Even though it displays a myriad of features, its user-friendly interface is convenient for all types of users.
AI-powered recommendations. The app uses AI to suggest complementary design elements for your visuals. An option that saves time and generates an eye-pleasing result.
Vast templates and image collection. Canva proposes a real treasure of templates that are designed by professionals. Moreover, they are preformatted for all major social media platforms.
Consistent branding. A brand kit feature enables users to upload their brand assets like logos, colour palettes, and fonts and employ them as necessary across social media channels.
Drag and drop editor. Canva incorporates reliable image editing features, that are a great feat for social media. There is the possibility to remove backgrounds, enhance images, apply filters, resize, etc.


Real-life applications
Professional-level social media designs.
Brand consistency.
Visual storytelling.
Efficient collaboration.
Pros and Cons
| | |
| --- | --- |
| Advantages | Disadvantages |
| User-friendly interface | Learning curve |
| Huge collection of templates and images | Limited customisation (particularly for advanced designers) |
| Brand consistency | |
| Drag and drop editor | |
| Low-cost | |
| Team collaboration capabilities | |
AI Social Media Tools Benefits
Such tools are not just nice to have, they can be game-changers that improve tremendously your social media activities.
Let's explore their major advantages:


Time-saving and improved efficiency
Social media AI tools work behind the scenes to make the most of your time by:
Automating manual and repetitive tasks. AI tools can handle activities like data analysis, scheduling posts or answering routine questions, freeing valuable time for other strategic or creative assignments.
Streamlining workflows. These tools organise efficiently the current social media tasks, ensuring nothing is missed and that errors are minimised.
Being available around the clock. AI-backed chatbots are available 24/7, ready to answer your clients' questions, improving their satisfaction and eventually loyalty.


Better content quality and personalised content
AI tools have the capability of being your content collaborators. As they provide:
Content creation support. AI content generators can offer creative ideas, drafts for social posts, and visual alternatives. Their role is to improve the efficiency of your content production.
Consistent brand voice across channels. AI tools for social media posts ensure a cohesive tone and language for all your social networks no matter the content type.
Personalisation at scale. AI tools analyse your audience data and behaviour and make recommendations for personalised content according to their requirements. Thus, improving the reach and engagement.
Refined decisions backed by data
Effective data analysis is the core of social media success. AI social media tools deliver:
Real-time analytics. Check in real-time the results of your social media activity. Track metrics like conversion rates, engagement rates, etc.
Predictive analytics. AI tools can forecast trends, and preview the results of strategies, to help your business make better decisions.
Trend analysis. AI has developed capabilities to identify trends and patterns in your client's behaviour. It helps to adapt your strategies and gain an edge over the competition.
Advanced customer insights for improved engagement
Social media marketing relies heavily on understanding the desires of your audience and engaging with them. And here AI tools come into play by:
Delivering valuable customer insights. AI social media tools process large amounts of data to uncover advanced insights regarding your target customers, their preferences, behaviours and demographics. This information is the basis for data-backed decisions, improved strategies and marketing campaigns that speak to your audience.
Automating engagement to ameliorate the customer's experience. Chatbots can answer questions at any time and provide pertinent information.
Sentiment analysis. AI tools analyse the audience's sentiment toward a brand, topic or product in real-time and empower businesses to promptly address negative issues or profit from emerging opportunities.


How to Choose the Right Social Media AI Tool for Your Business
Even if today we have a plethora of social media tools powered by AI, they are not similar in features and capabilities. Consequently, choosing the best AI tools for social media can impact significantly the success of your social media endeavours.
During your selection process take into consideration the following:
Features of interest. Establish what are your needs. Do you want to automate post-scheduling, and enhance content creation or audience engagement? Or do you want to have real-time deep insights regarding your customers' behaviour?
User friendly interface. Minimise the learning curve and pick a tool that is easy to use and that your team can quickly accommodate.
Cost and ROI. Cost plays a critical role when choosing tools. Evaluate the benefits brought by the tool and compare the price with the forecasted return on investment (ROI).
Integration facilities. Verify how the new tool integrates with your existing social media tools and the platforms you use. A smooth integration is always desirable.
Check reviews. It's wise to review the opinions and testimonials of existing clients to obtain insights into the performance and capabilities of the prospect tool.
Customer support. No matter how performant is a tool, there is always the possibility that something doesn't work as expected. Responsive customer support and training resources are essential and it's an aspect you should not skip.


Wrapping Up
As we can notice the tools used for social media management are highly versatile and respond to a wide range of goals and needs. Your needs as a business evolve too.
Consequently, in a dynamic universe like the one of social media, you have to make the correct choices for your current demands. And this is an ongoing process.
These AI social media tools evolve also at high speed. To keep up with all these updates, periodically evaluate your business requirements and your goals and see if your current social media solution is up to the standard. If not you have plenty of alternatives to drive success from social media.