Analysing your own brand from within comes with several challenges. Primarily, brand analysis relies on truly objective insights, and for that, you need a large amount of solid, trustworthy data external from your company.
This means that you need to invest time and resources to collect and analyse the necessary data. Typically, brands will systematically conduct customer surveys, scour through online reviews, and harvest quantitative social media metrics. But these methods are not only time and resource-intensive, many existing tools used to measure, for example, brand sentiment, lack the accuracy required for reliable insights.
The Symanto Insights Platform is designed to analyse vast amounts of qualitative data and provides you with accurate insights within minutes. These insights are highly useful for conducting brand analysis from internal branding to competitor analysis.
In today's blog, we'll demonstrate how the Symanto Insight Platform can be utilised in different approaches to brand analysis to give you a much clearer and more precise understanding of your brand as experienced by your customers.
What is the Symanto Insights Platform?
The Symanto Insights Platform uncovers the insights that are hidden within online comments and conversations. It is connected with over 75 online portals including social media and review sites. Symanto then organises the data by topic, subtopic, sentiment, and psychographics and converts it into highly visual graphs and charts.
Unlike other sentiment tools, Symanto uses AI technology to understand words within the context they are used to recognise tonality and vastly improve accuracy. For example, the word "awful" is negative, yet used in the context "the weather was awful so we ducked into this cafe and it was so cosy" Symanto's Text Sentiment Analysis immediately identifies and assigns a positive tonality.
In the above example, Symanto is also able to ascertain the topic (experience) and subtopic (environment). This is replicated across potentially thousands of reviews and comments so that you can immediately recognise patterns.
Conducting Brand Analysis with Symanto
There are several different approaches to brand analysis. Here we'll take a look at three such examples and demonstrate how to use the Symanto Insights Platform to reveal key insights.
Brand Strategy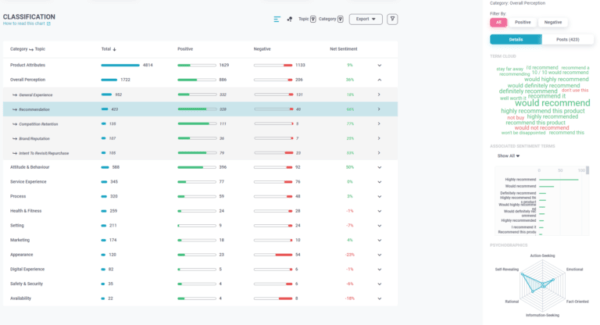 Discover whether your brand identity is in line with your customers' experience. Does your branding accurately reflect how your customers perceive your brand?
If, for example, you're branded as "friendly and affordable" you can use the Symanto Insights Platform to explore whether the most positive conversations around your brand match up with that brand promise. If not, the Symanto Insights Platform is designed to enable you to dive deep and read specific comments relating to your chosen topic.
This allows you to hear directly from your customers about how they believe you can improve your service. Alternatively, use the Symanto Insights Platform to discover where your strengths really lie and consider a rebrand to align your identity with reality.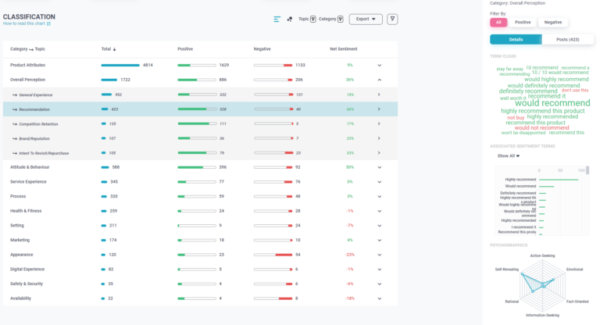 Internal branding
Are your employees fully aware of your brand proposition? Is your brand promise alive and well in your company culture? Analysing your internal branding enables you to see what needs to change in your operational realities to create consistency and authenticity across your organisation.
The Symanto Insights Platform can crawl employee reviews from Glassdoor or you can upload any qualitative feedback from your HR department into the system in the form of a spreadsheet or CVS file. Symanto organises the data by topic and sentiment so that you can easily discover your company's strengths and most pressing issues.
As part of your internal brand analysis, you can also use the Symanto Insights Platform to find out whether your customer service team is espousing your brand values by uploading call transcripts. If not, it may be a sign that your customer service culture needs some attention.
Competitive analysis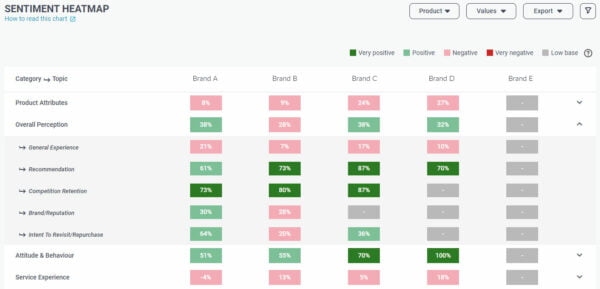 Your competitors pose both an opportunity and a threat to your business, as such competitive analysis plays a significant role in forming both an offensive and defensive strategy.
What keeps your customers from choosing the competition and what keeps their customers from choosing you? Knowing the answer to this question puts you in a much better position to maintain and grow brand loyalty.
Use the Symanto Insights Platform to easily compare customer sentiment for your brand against your competitors. Explore by topic to discover where your brand's strengths lie and discover brand strategy opportunities.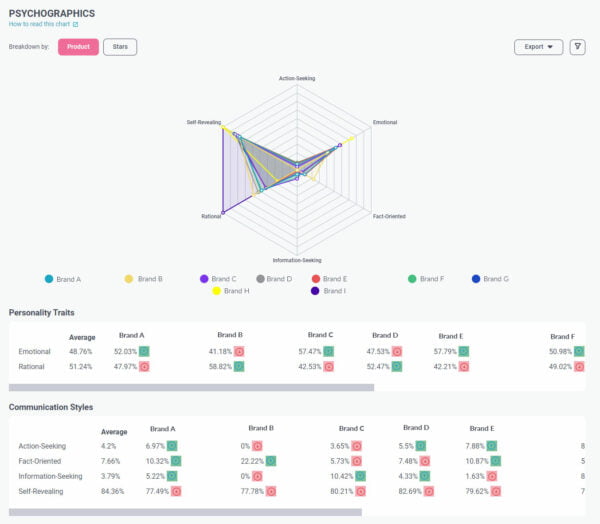 One particularly unique feature of the Symanto Insights Platform is psychographic analysis. Symanto detects key personality traits and communication styles that help you distinguish exactly who your audience is. Are they emotionally driven or rational? Are they fact orientated or do they like to share their experiences? As a result of answering these questions you may find that your main competitor is not who you originally expected. After all, your main competitor is the one who appeals to the same people.
The Symanto Insights Platform enables you to toggle through psychographic results so that you can establish which competitor shares the same audience.
Get started
The Symanto Insights Platform has many more features besides those described here. Discover more about Symanto's incredible capabilities. Get in touch or book a free personalised demo.