We run down the best competitor analysis tools to give you a 360 view of your position within the market.
Without a doubt, one of the biggest challenges in business is keeping up to date with an ever-changing landscape. Trends come and go, consumer behaviour shifts and businesses and organisations thrive, survive or die according to how well they can adapt.
In the information age, competitor analysis tools are key to staying on top of what's happening in your industry. You can leverage the information from these tools to a) keep up with the Joneses and b) discover new opportunities.
What Is Competitor Analysis?
In marketing and strategic management, competitor analysis assesses the strengths and weaknesses of businesses offering similar products and services to you.
You can use competitor analysis tools to find out who are the major players in your industry, research what marketing techniques and business strategies they may be using and how it is impacting their business.

Competitor analysis tools provide us with information to give us context on which to base our strategies, both offensive and defensive.
You've probably heard the phrase "evolve or die" in relation to business. We either pay close attention to shifts in consumer behaviour and emerging industry trends and change up our strategy accordingly, or we risk extinction.
Competitor analysis tools are your first port of call to get important insights into what other companies are doing, to ensure that you're not missing out on any major developments in your industry, and to learn from both their successes and their mistakes. This describes a defensive strategy.
Competitor analysis also gives us insight into gaps in the market, untapped opportunities and helps us to predict consumer trends so that we can get ahead of our competitors. In other words – an offensive strategy.
10 Competitor Analysis Tools You Should Know About
We have compiled a list of ten tools that you can use individually or together for comprehensive competitor analysis.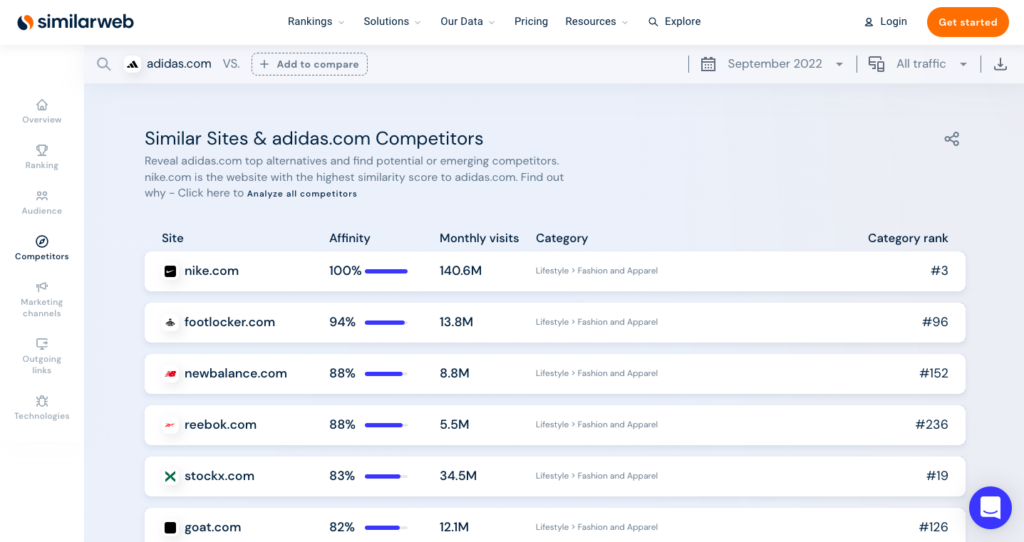 Similarweb is a great free resource to get you started. It measures websites based on the amount and type of traffic they receive (organic or paid search, social media etc) and ranks each of them against all other websites in the world.
It also shows data on referrals, both backlinks (other websites that link to the website being analysed) and outbound links (websites that the site being analysed links out to).
Similarweb is a useful tool to find out who are the biggest players in your industry but falls short of providing insights into smaller or even midweight competitors. It also hints at which marketing methods your competitors employ. For example, if a proportionally large percentage of their traffic comes from paid search, it's fairly safe to assume that they invest substantially in Google Ads.
It's also worth noting that Similarweb only measures website traffic, and is thus a measure of website success and not necessarily business success.
Considering it's a free tool, it's a great place to start your competitor analysis, though you would need to look elsewhere for more in-depth insights.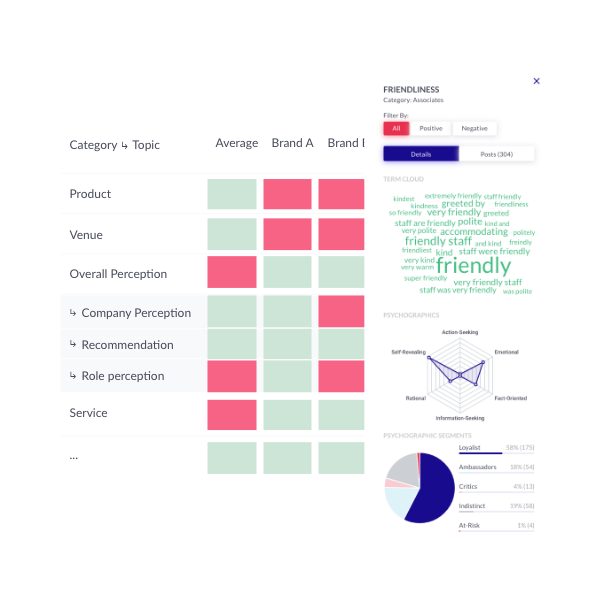 The Symanto Insights Platform is the most comprehensive tool to analyse text written by consumers on online review sites and social media.
Symanto has the capacity to crawl thousands of comments, reviews and conversations from social media, review sites and online surveys, a process that only takes a matter of minutes.
The Symanto Insights Platform enables you to run searches on your competitors and amalgamate the data so that you can easily compare results.
Symanto's advanced AI technology categorises conversations by topic and by sentiment so that you can see how your customers feel about your brand with regards to price, customer service, usability, product features etc.
Symanto excels at data visualisation, making it the ideal tool for competitor analysis. At a glance, you can see how your brand fares in each of these topics against its main competitors.
Another great feature of the Symanto Insights Platform is psychographics. Symanto's deep learning technology analyses text to reveal key personality traits and preferred communication styles of the authors. Find out if your customer base is more rational or emotional and how that information compares to that of your competitors. For example, you may discover that even though Brand X has a larger share of the market, Brand Y is a closer competitor based on the fact that you attract more similar customers.
One of the most popular search engine optimisation (SEO) tools, you may not have considered that SEMRush also functions as a competitor analysis tool.
Not only can it identify who is competing for the same keywords as you (i.e. your competitors), you can also click through to search SEO statistics on their domain. Discover your competitors' backlinks, find out which keywords they rank highly in and track changes in their rankings.
If you're looking for insights into your SEO strategy, SEMRush is an excellent tool for competitor analysis.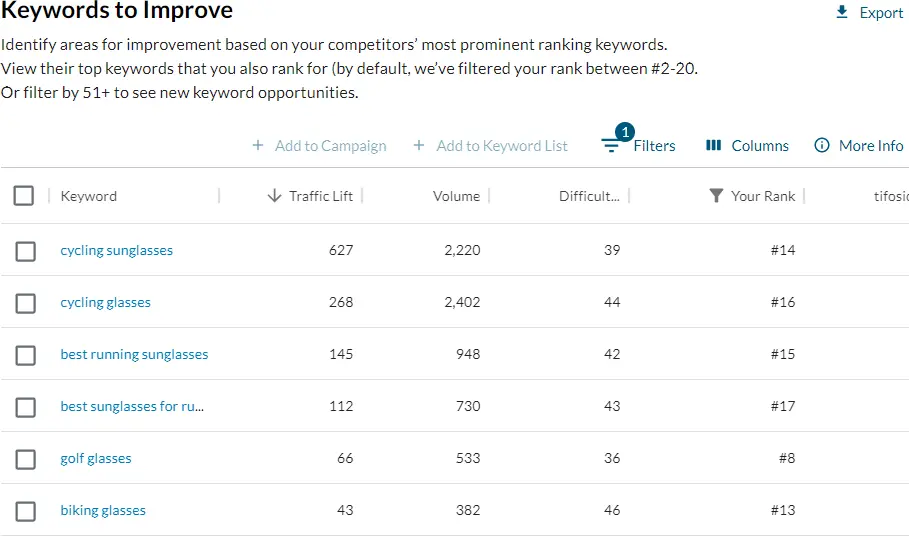 Moz offers a dialled down version of SEMRush for free in exchange for signing up. Using search engine ranking page (SERP) data,
Their new competitive analysis tool allows you to compare multiple competitors on factors such as domain authority, ranking keywords and top search engine positions. From there you can see which of your keywords needs improvement, and browse your competitors' most visible content to guide you on ways to refresh your own.
If SEMRush is the best tool for comparing your SEO strategy with that of your competitors, Buzzsumo is the best tool to compare your content strategy.
Not sure what content would appeal to your audience the most? Sneak peek at your competitors' content strategy. Find out what type of content your competitors are posting (video, how-to articles, lists, etc,) which networks they are posting on, and who is sharing their content.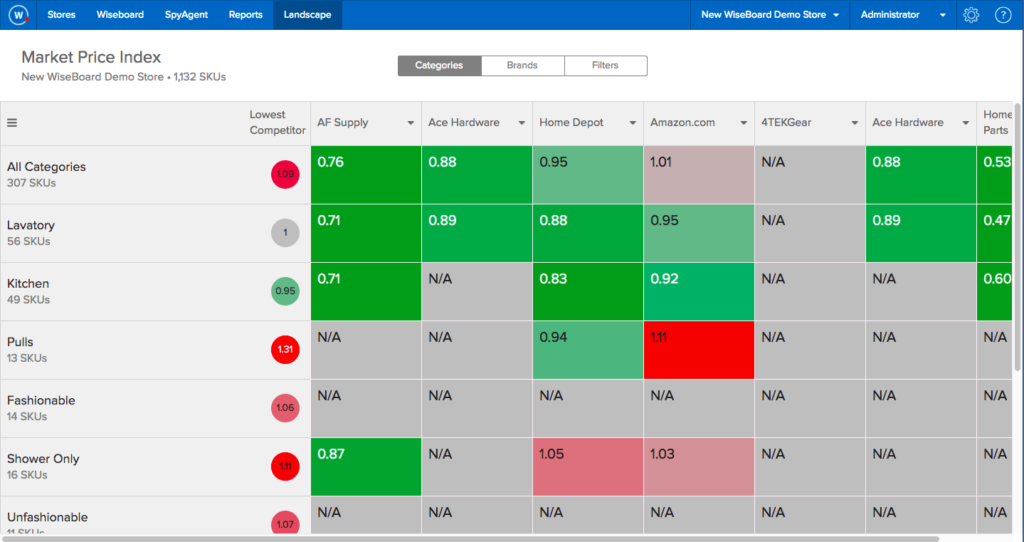 For eCommerce businesses looking to offer competitive pricing across their catalogue, Wiser is a tool that enables you to easily compare your price points with your competitors as well as browse historical pricing data.
Their price indexing heatmap enables you to quickly identify outliers so you can stay in line with the competition, offer more competitive price points or increase your margins.
Wiser's insights also help you improve forecasting for sales changes so that you can put your business in the best position.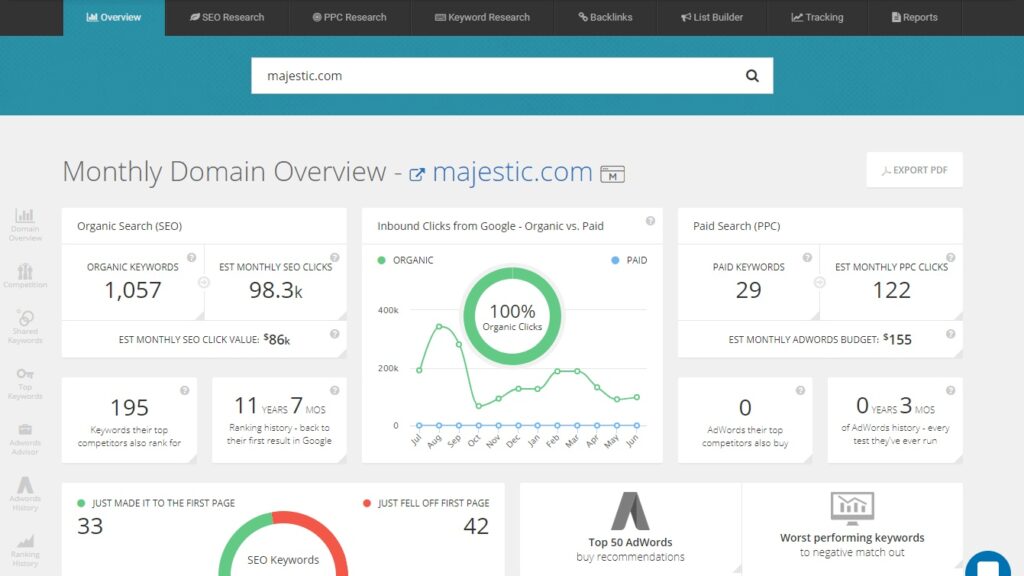 Successful pay-per-click (PPC) advertising requires a solid strategy. Targeting the wrong keywords can drain your budget and, frankly, be a waste of money for your business. SpyFu is a competitor analysis tool that identifies the most profitable keywords of your competitors.
Hootsuite Streams provides an easy way to browse and keep track of competitor social media activity. Use the "My Industry" stream to follow keywords and conversations and keep an eye on your competitors' latest content. This is a great way to quickly spot social media trends in your industry.
With a quick search on Wappalyzer, you can find out what technology your competitors are using on their website. With Wappalyzer's APIs you can also set alerts to notify you when your competitors switch technologies, enabling you to keep up the latest web development technology trends.
If you run a software company, you can even find out who is using your software and that of your competitors.
Spying on your competitors' newsletter strategy used to mean creating a fake email account, signing up to each newsletter individually and scouring through hundreds of emails one-by-one.
Not so with Owletter. Owletter takes a screenshot of each newsletter and allows you to compare several at the same time to give you an overview of the design and content, and presents data such as frequency, timings and the companies SPAM reputation.
Start Using the Symanto Insights Platform Today
Most competitor analysis tools focus on measuring online engagement. However, the Symanto Insights Platform is unique on our list for also providing deep insight into consumer attitudes. Not only can you assess engagement on review sites and social media networks, but you can also get statistics and insights into the pain points, preferences and personality traits of your competitors' customers.
This information is invaluable when it comes to both your marketing and wider business strategy. Discover for yourself how the Symanto Insights Platform can help your business. Get in touch or sign up to start your 21-day free trial today.