Christmas is the most wonderful time of the year. Joyful faces are everywhere, the smell of cinnamon sweets is in the air and children all around the world are excitedly awaiting for Santa Claus to visit and bring them many presents.
Still, there is one thing only a few know – Santa is running a complicated full-year business with lots of tasks to keep in his white-headed mind. As you might assume, it is hard for a man of his age to manage all these duties. Luckily his diligent elves busily assist him in his daily business – not to mention what Santa would be without them!
But 2020 has been a tough year for everyone, and even busy little elves can run against their limits…

Chapter One
Mrs. Claus was concerned that each year, Claus Inc. receives more and more letters and the number of children that need a behaviour analysis grows every single day. In 2019, the elves had ended exhausted and, this 2020 she frankly doubts they will be able to finish on time. Given the situation, it was necessary to find a solution and surely Bushy Evergreen , the chief of the elves, had already thought of something.
And so it was. He had been doing his research and concluded that the best approach would be to automate some processes using artificial intelligence. Mrs. Claus was fascinated with the idea and they both ran to tell Santa.
Father Claus listened carefully and replied in a grave tone: "Over hundreds of years we have done it this way, the traditional way, and it has always worked! I know we are overwhelmed, I really understand it, that's why we will have to try harder. We can't afford to risk something new like the AI failing."
The Elves and Mrs. Claus were very sad and worried. At this rate, they warn, they will end up doing their job poorly and the children will receive the wrong gifts. Christmas is in real danger!
But what could they do? They needed a plan.

Chapter Two
The next day, Santa got up very early to go to work. Entering the halls of Claus Inc., his drowsy eyes suddenly widened: the usually so lively factory  was completely empty, all the elves were gone. "They must be doing some of their mischiefs," he thought and went to his workplace.
Like every morning, he sat down to read the news in "The independent Lapland", and almost fell off his chair when he saw his elves on the cover:
The Independent Lapland
The elf revolution.
Anonymous sources claim to have seen Santa's elves on a paradise island in the Caribbean a week ago. Apparently, fed up with so much labour exploitation, the elves had decided to take a well-deserved vacation after hundreds of years and were prepared to go on strike indefinitely.
In their latest statements on Twitter, they emphasise the situation was unsustainable and Santa refuses to solve it.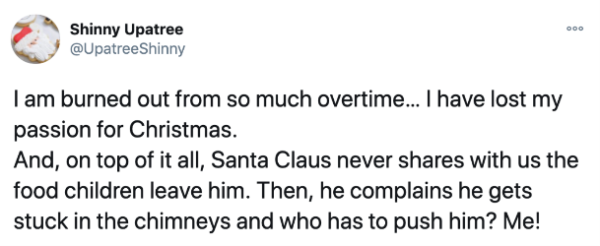 Source: Twitter
"Oh, my God! The situation is more serious than I imagined. Maybe they are right and I am very stubborn." Santa recognised slightly worried.
Mrs. Claus was passing by and saw her very gloomy husband sitting at his desk.
"Dear," she said, "I have an idea. Why don't you take all the sleighs, go to the Caribbean and bring home our little elves? Meanwhile, I can negotiate with AI companies and prepare all the documentation to automate the processes."
And that was what they did.
"What a smart wife I have!" thought the relieved Santa.
A few minutes later, the phone rang at Symanto's office. We couldn't believe it! Christmas needs our AI system. Immediately, we packed some sweaters and coats and flew north to Santa's house.
There we met Mrs. Claus, who was defining all the functional requirements that the new tool would need to have. Since the Christmas business is extremely specific, she didn't want anything to fail – topic detection, sentiment analysis and even psychographics were the features she named us.
She knew how to make sure to get the best understanding of the millions of children to make her little elves' life easier!

Chapter Three
That same afternoon, Santa arrived in the Caribbean.


After a serious talk with the elves explaining to them all the improvements Claus Inc. has implemented with Symanto's support, the elves were overjoyed and eager to return home and continue their beloved work with some helpful AI assistance.
Christmas is everything to them! Still, they were incredibly happy about the changes that would make their Christmas work easier from now on.
Well, all… except one. Snowball Alabastro, the manager of the Christmas list, asked Santa for a few months of sabbatical. He had signed up for the Caribbean Elf Surfing Competition, and he was rocking it! He could not miss that opportunity.
Santa reluctantly agreed and returned with the others to Rovaniemi. Home sweet home…


Chapter Four
Mama Claus was looking forward to giving them a hug and had prepared their favourite food, gingerbread houses. She was incredibly happy to have them back home and tell them about all the changes they had made in their absence.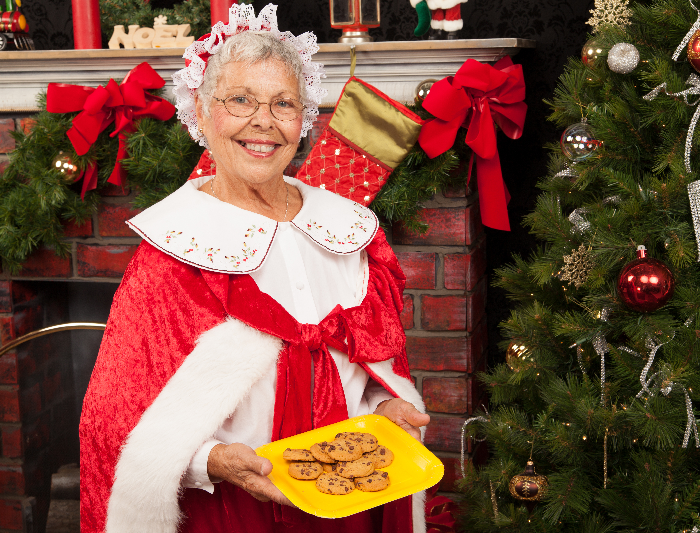 "Darlings look here! I hope you like it! We have implemented a system that analyses online surveys and reviews to find out which gifts kids like the most!" said Mrs. Claus.
The elves were delighted with the changes.
"We have also automated the reading of the letters that arrive by email and several reports with information about children's activity on social networks and online behaviour. This way you can invent new toys based on children's opinions and spend more time teaching them how to behave well. And, better yet, playing together!"
It was fantastic news! Thanks to this, Christmas 2020 is out of danger and, the gifts will be better and better (just for a second imagine a world with no more fake faces pretending they love their gifts).
Right now, Mr. And Mrs. Claus and their elves are all working to make 2020 a very special Christmas. It has been a difficult year with many changes, also for Rovaniemi.
Happy to be able to help the Clauses with their business problem, it was our time to leave the North and go back to our Nuremberg offices. "Technology is one of the closest things to the magic that humans do" Santa Claus explained when we were saying goodbye. And probably it is true.
For the first time in history, average people like us have been able to help Santa save Christmas.

Spoilers for the year 2021
Although we cannot reveal to you all the secrets of the 2020 Christmas, the elf who sees the future (sometimes), has given us a preview of some things that will happen in 2021.
Snowball will get silver in the Caribbean surfing world championship. His Christmas gift will be a big-headed elf hat that fits his dreadlocks.
This year the gifts of socks and pyjamas will decrease. They will be replaced by another surprise that we hope you like, but it is top secret. Just in case, for those who do not believe in Christmas, we leave a link here.
Mrs. Claus will start giving TED talks on how Artificial Intelligence has transformed Christmas: "Work smarter, not harder". Very inspiring.
Santa Claus will release his first single "With a little help from my elves". Top 10 in Australia.
Bushy Evergreen will freelance for Google in his spare time.
Do you believe in magic?
The best magic is the one that happens every day.
You probably don't need to know what gifts all the kids in the world want, but you are likely interested in what your clients want. And at Symanto, we can manage that.
Do not hesitate and book a free, personalised demo to discover what Artificial Intelligence can do for you.
We don't have flying reindeers (yet), but we can answer your relevant business questions within minutes. That's our magic.